Devastating Injury Leads to Amazing Comeback
University of Sioux Falls Graduate Student, Jacey Huinker, has always had a love for basketball, but basketball hasn't always loved her back. A Des Moines, Iowa native, Huinker has always dreamed of playing basketball at the collegiate level. She finally received that chance during her junior year of high school, when the women's basketball staff at USF watched her play in her state basketball tournament.
"The coaches and I had an instant connection. Everything about this place [USF] instantly clicked for me," says Huinker when asked how she decided to commit to USF.
A natural born leader from the start, Huinker got to USF with a passion to continue playing the game she's loved for so long. She played her freshman, sophomore, and junior seasons incredibly well, filling up her stat lines and being the best teammate she could be. When her fourth and final season rolled around, she was ready to go out with a bang. What she didn't expect was to tear her ACL the first day of November during one of her many late-night practices. A season ending injury, Huinker had to decide whether she wanted to medical red-shirt and stay another year or finish out her final season on the bench. With a nursing career waiting for her at the end of year, she was almost positive what her decision would be, until God changed her mind.
"There was so much prayer involved in my decision," says Huinker. "I didn't get to go out the way I wanted to … then I realized I have my whole life to be a nurse, but I only have so long to play basketball".
With everything falling into place after that, Huinker officially decided in January of her senior year to stay for her fifth year of eligibility. Since then, she has gone through surgery, months of rehab, and even more basketball practices to get back into the swing of things.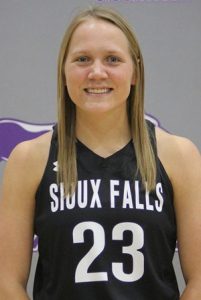 Now, in her fifth and final year of basketball, Huinker and the Coo have high hopes for the end of the season. After clinching their first NSIC South Division Championship, the Lady Coo are now hoping to finish the season strong with their final two home games. With Saturday, February 22 being her last home game ever, Huinker is looking forward to finally getting her senior night that she didn't get last year.
"Senior night is going to be very bittersweet. I'm so excited to celebrate my time here at USF … It's been the fastest five years!" says Huinker.
This year's senior class includes Jacey Huinker, Kaely Hummel, Andie Mataloni, Abby Slater, Jessie Geer, Mariah Szymanski, and Augusta Thramer. With the spectacular season they've had so far, senior night for these girls should be icing on the cake.
"I've been with most of these girls for four years now, so it'll be fitting to share this night with them. And what a year we are having to really top off the celebration! It's going to be great, mixed emotions for sure, but it'll be perfect" says Huinker when asked how she feels about senior night and this senior class.
With everything lining up for Huinker, it rings true that God always has a plan, we just need to trust in Him. After all the heartache, tears, thoughts, and prayers, Huinker is finally having the senior basketball season she has dreamed of. She plans to finish this school year and then head into her dream job: nursing. While she will certainly miss basketball and USF, she will never forget the lasting friendships and memories she has made here and is looking forward to what God has in store for her next.
Photos courtesy of USF Athletics Communications