The Culture Club Comes to USF
By Keith Schallenkamp
No, we are not referring to Boy George. The Culture Club is a brand new organization at the University of Sioux Falls founded by freshman Sonia Agasaro from Rwanda. "Everybody has a culture, whether they know it or not", she says. Anyone who is interested in culture is welcome. There are approximately 25 members so far. Plans are to contact local businesses and other community and city organizations to see how they can have a positive impact on the community. Her goals are to promote cross cultural understanding as well as giving people the chance to experience and learn about other cultures. To promote awareness that culture and people matter as a whole.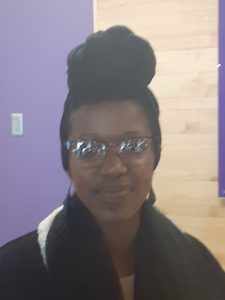 She got the idea when she came to Sioux Falls four years ago. Although she enjoyed her new community, she felt something was missing. By forming a cross-cultural club, she felt that she could help other recent immigrants adjust to their new culture more easily, to promote better understanding among the local population, and to build friendships. She feels that a club like this can help people like her to integrate into this community better too.
Her plans are to meet every other Tuesday from 3 p.m. to 5 p.m. Meetings involve getting together to socialize and experience foods from various cultures. Agasaro says, "Food is a connection to home. You can smell something, and it reminds you of home". As the club develops, she can see them branching out to experience other cultural activities such as movie nights, music, art, dance, modeling cultural clothing and learning new languages. So far, a potluck dinner is tentatively planned for some time in March.
Her faculty advisor in this endeavor is Sarah Sinnott. Watch for meetings and fund raisers. For more information contact Sonia Agasaro at Sonia.Agasaro@USiouxFalls.edu