Local professor sees his work onstage
By Toki LaRose
What happens when you put three men and one gunman into an art museum?  You get a recipe for intrigue in a play written by University of Sioux Falls Professor Kevin Cole.  "Loving Arms" is a dark comedy, where three men meet in a contemporary art museum and quickly become friends. That gathering is interrupted when an American shooter invades the museum and shoots them off-stage away from the viewers.  The story then quickly changes the narrative as the shooter locks himself inside a gallery room.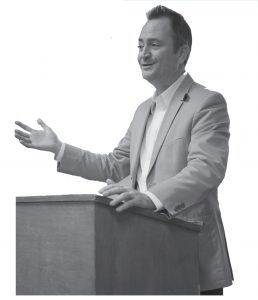 "The play is about a lot of [topics] that plague American culture," Dr. Cole explains, "One of those issues of course being about the typical American shooter." He says the play is not a political play and it does not push a political message or agenda on its audience.  He says the play is more of an allegory that isn't meant to demonize the shooter in any way. Cole wants this play to be watched by those who enjoy theatre and dark comedies.
"Loving Arms" will be performed from Wednesday, February 19 – Friday, February 21 at 7 p.m. and on Saturday, February 22nd at 2 P.M. in the Meredith Auditorium located in the Jeschke Fine Arts Centre on campus. Tickets can be purchased online at usiouxfalls.edu/tickets or by calling 605-331-6787 with general admission price at $15 per ticket and $10 for students with ID.