USF Ukulele Choir Meets Regularly this Spring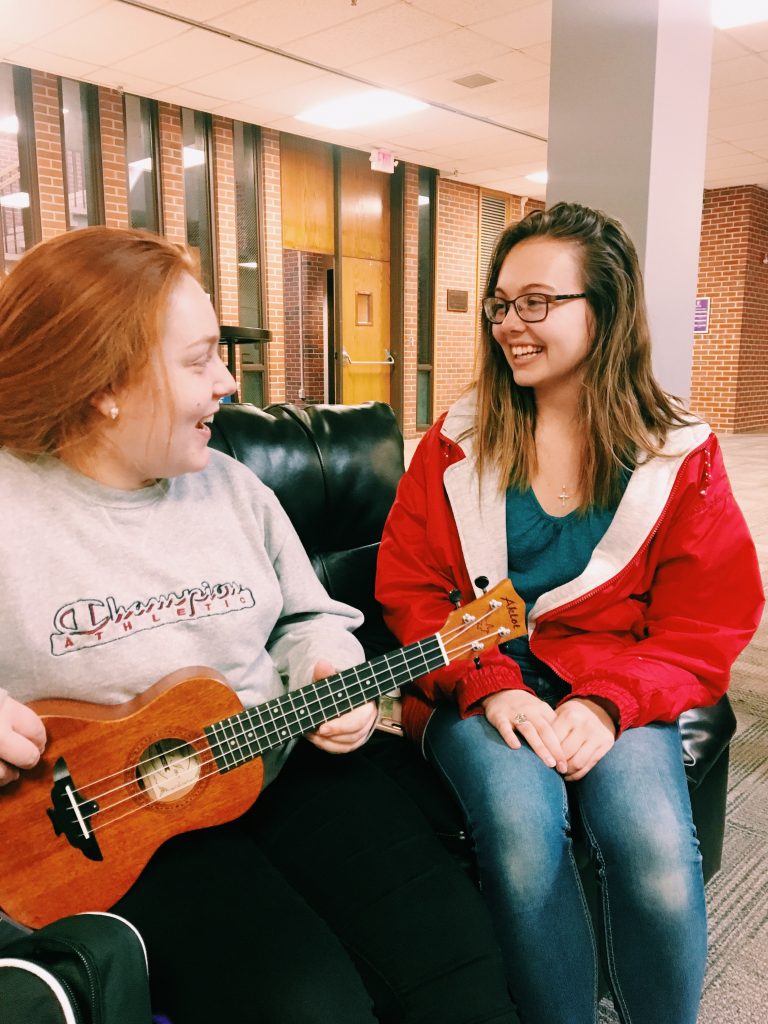 By Greta Smith
Spring is in the air and the students of USF's Ukulele Choir are more excited than ever to get out of the dorms and spend some time strumming away the semester. Members of the club are in the process of planning regular meeting times and choosing pieces to perform. Members often meet in the Jeschke art gallery to talk about rehearsals, custom apparel, and performances. The group was asked to play at USF's outdoor music festival, Fauxchella, on Tuesday April 16.
Ukulele Choir was started last year by USF junior Dayne Versteeg. Though the group was started on a whim last spring, it is now in the process of being approved by Student Senate. "We started it last year, a couple of us decided to get together and just play ukulele," says Versteeg. "We all started playing the same song and we decided to make it into a ukulele choir." Versteeg is excited to bring the group back for another season and has ordered stickers and t-shirts for this year's participants. Hear them play by clicking the audio file below.
Interested in Ukulele Choir? No experience is necessary! Sophomore Hannah De-Hoogh Kliewer has no background with ukulele but says she is "looking forward to getting to know a fun group of people while learning a new skill." Hannah and a handful of others will join the group's growing membership this spring.
Rehearsals are dependent on the weather and subject to change, but are tentatively scheduled for afternoons on the campus quad. What's on the agenda? Choosing songs, playing, singing, and hanging out. Versteeg plans to keep the choir as "chill" possible and is arranging to partner with USF's hammocking club and have joint meetings as often as possible.
Versteeg says the best part of Ukulele Choir is "the relaxed feel you get from it" and encourages everyone with or without a ukulele to come play, sing, and join the community. The choir is looking forward to warmer temperatures and the relaxing sounds of the season!