Senator Thune Allows Voices on Campus to be Heard
College is a time to find out who you are, where you stand in this world, and to ask the big questions, specifically on the controversial topics and issues of our nation today. The College Republicans Club gave the students of University of Sioux Falls the opportunity to ask those tough questions to South Dakota's very own U.S. Senator John Thune on April 26.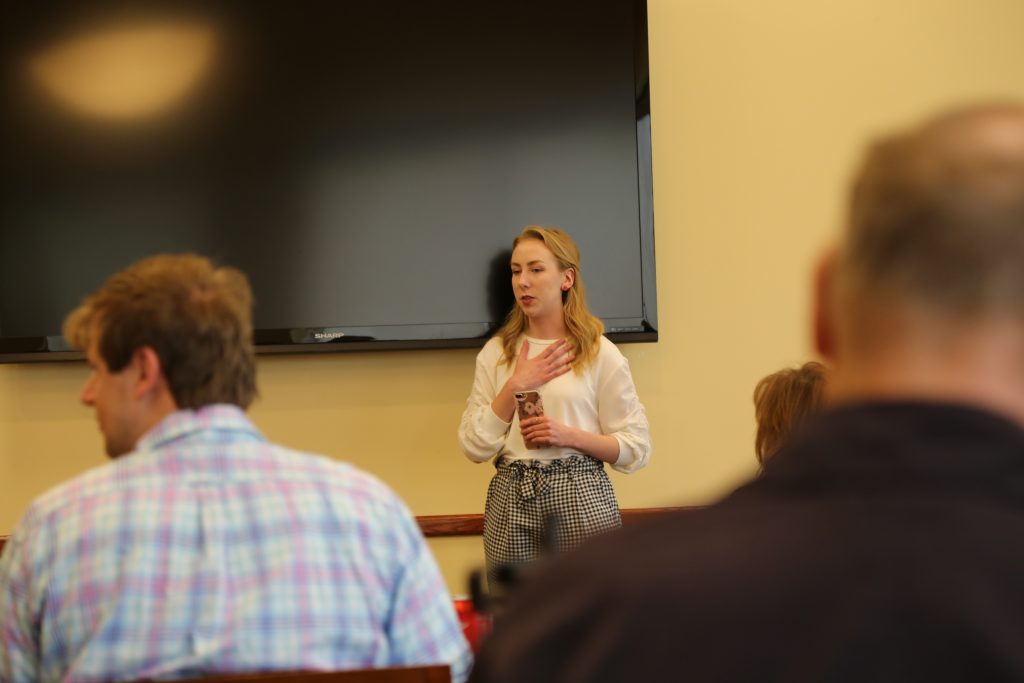 Hosted by USF's President of the Republican Club, Dana Hein, students, faculty, and fellow members of the Sioux Falls community were invited to come together for pizza and goodies, provided by the Republican Women Society of Sioux Falls, to ask Senator Thune the questions that are on the minds of the people in this community. Hein said that the event ran very smoothly with people coming out of this session feeling clarity and assurance about topics they felt they wanted more understanding of.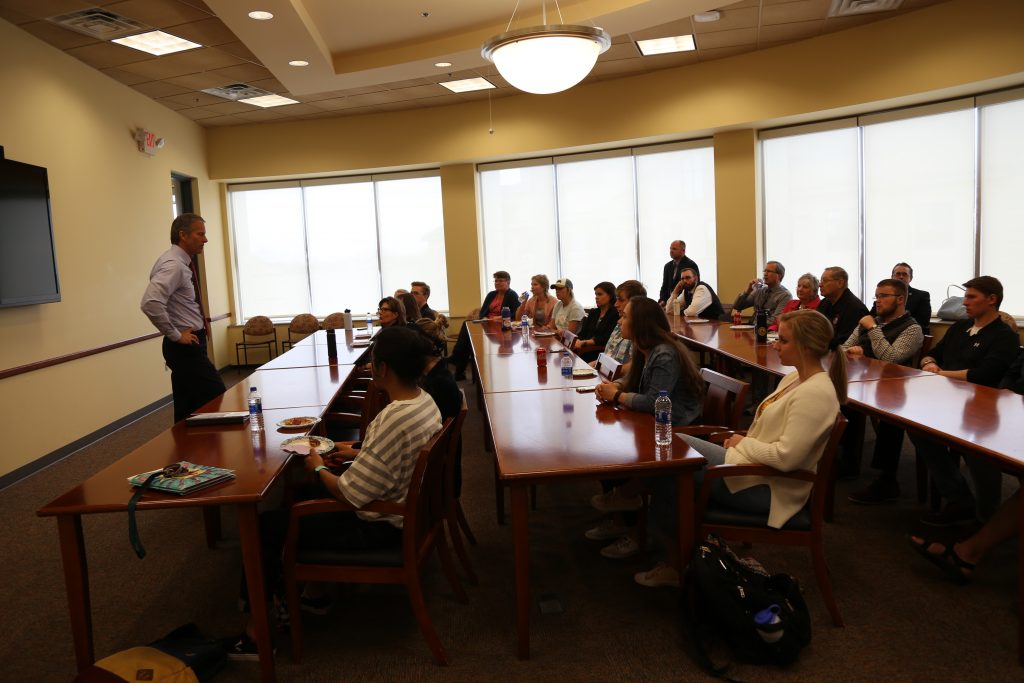 President Hein also had the privilege of sitting down with the Senator, interviewing him on topics and issues that are currently being talked about throughout not only USF and South Dakota, but throughout our nation. Here are a few of the questions and answers from the exclusive interview.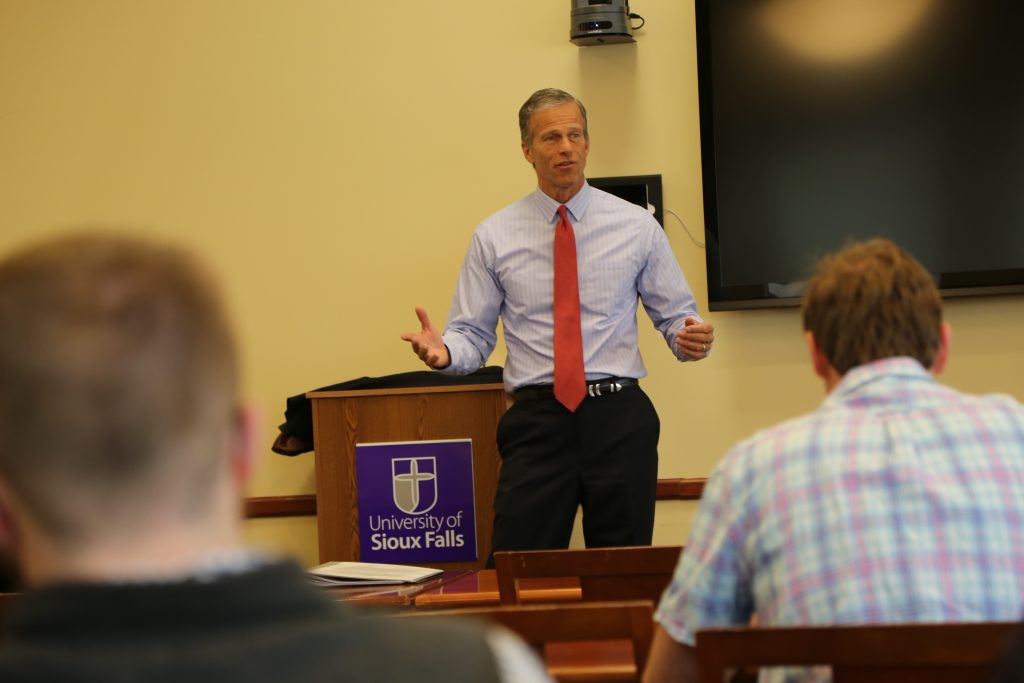 What is your connection to USF?
Living in this community and following the school, I know a lot of people over here through the years. My wife also serves on the USF board, I have a nephew who attends here, and I have always felt a close connection to the community here.
As a US Senator what are your priorities and what do you hope to accomplish?
For purposes of this discussion I think about South Dakota and its future. I want to make sure we have got good opportunities for people, especially young people coming out of schools like USF and the state of South Dakota. They will come out with skill sets and training and we want to make sure that they have good job opportunities. So we focus a lot on the economy, jobs, good paying jobs, trying to make sure that we have the right policies in place for economic growth because we think that in the long run that if you have a growing vibrant community, it creates good paying jobs for people who want to stay in South Dakota and raise a family. So we spend a lot of time focusing on economic issues.
The US economy and the economy here in South Dakota is booming. Our unemployment is down, USF reports that 95% of graduates are finding jobs. What do you believe is contributing to this success? 
I think a lot of this has to do with creating conditions that are favorable with growth. Economic growth. South Dakota does a good job because we have a very progressive and good business climate, low taxes, great workforce, and nationally, things that we have worked on in Washington, it has to do with tax policies, regulatory policies, energy policies, and trying to keep costs down, and get wages up. In business investments, businesses are investing in growing and expanding their businesses which creates a need for manual labor. So we worked really hard at the federal level and in the state as well, to try and keep that growth and economy well in South Dakota. Keeping that unemployment rate low, and allowing wages to go up is good because it allows for better paying jobs and keeps a lot of our young people at home without the need to move away from South Dakota.
USF is a Christian University. Some media outlets state that President Trump is the most "supportive President of faith-based initiatives in history. He's pro-life, pro-national day of prayer, supports the nation fo Israel, and has reached out to the churches in faith based leaders of America. Would you agree with this assessment of President Trump?
Yes, I think in terms of the President's policies, that's true. I mean I think when it comes to pro-life, pro-family, and pro-religious liberty and pro-religious freedom, his policies have been pretty much embraced with those sorts of policies and values. I think that the President obviously, any given day, always gets a lot of criticism, and when you're in a job like that, it comes with a territory. But I also think that it is important whether you agree with him or not, we need to point out the times when he's doing the right thing and if you are a Christian conservative in this country today, I think you have to look at his record and say that he is doing the right things. 
A segment of the media of liberal education is promoting identity politics in a divided America. They say we have the oppressed and the oppressors, the privileged and those that are discriminated against. They promote kneeling for the national anthem, taking down confederate monuments, and even questioned the heritage of the South Dakota Mount Rushmore. What do you say to this?
I think that it's important that we appreciate where we come from. So much of the effort from the far left today is to try to tear down that heritage. There are things about our history that we are not proud of, but there are a lot of things about our history that we are proud of. Our founders had a really good concept on what a Democracy should look like, and here we are over 200 years later and we still have enjoyed freedom in this country, free market economy, and personal freedom. Many of the foundational principles and values that we are a part of in the formation of this country are still a part of this heritage today and that's a part that we want to preserve. I know that there are a lot of people in this country today who are trying to work through identity politics and through class warfare, which creates these divisions, but I think that the one thing that ought to unite America is the fundamental belief in freedom and democracy. 
And that does differentiate us from every other country around the world. If you look at most countries around the world, the freedoms that are enjoyed by individuals come from the government. In our form of government, as our founder designed it, our freedoms come from our Creator. As it says in the Declaration of Independence, "that these will be self evident that men are created equal and that they are endowed by their creator with certain inalienable rights, the rights of life liberty and pursuit of happiness." We see those rights and those freedoms as coming from above and in most places around the world those things are conferred or made by government and that's a very different model and I think it's a heritage we want to embrace and preserve and pass on to future generations. 
The movie Unplanned is taking our country by storm. It is based on the true story of Abbie Johnson a pro-life activist and former planned parenthood clinic director. Have you seen the movie and are you pro-life? Why or why not?
l am pro-life because I believe that that's consistent with what my conscious says. I think our conscious is based upon our faith, our belief system, and our world view. 
With the movie Unplanned, which I have not seen yet, but people who have seen it, have said it is very very powerful and that its the kind of movie that can convert people from sort of a pro-abortion view of the world to pro-life and so I hope that happens. It's disappointing to see the way in which the movie kind of has been blocked from being shown in certain places and the attempts to give it an R-rating. I think that the Hollywood community has done its best to try and blunt the impact of the movie but not withstanding that a lot of people are seeing it and a lot of people are being changed. And so when someone has a personal experience and can give witness to that, and has that kind of transformation or change taking place in their life, it's basically conveyed in this movie, it can have a powerful impact. 
What advice do you have for college students?
Do not be afraid if a door opens to push it open and see what is on the other side. Sometimes you study to do something and you have a certain career path in mind and sometimes the good Lord opens different doors and that was certainly the case with me.
I didn't grow up in a political family. I didn't aspire to be doing what I am doing today, but some doors opened for me along the way and so I just encourage young people today, whatever they decide to do to be difference makers, look for opportunities to have a positive impact, to serve other people and to serve God's purpose for their generation. And that doesn't have to be in your vocation, it can be in the other things you do that you get involved with. But look for opportunities, provide leadership, be engaged in people's lives, to have a positive impact on the people around you, and to bring glory to God in the things that you do. And so I want to encourage you all to be difference makers. 
If you would like more information, have questions, or would like to join the USF College Republicans club, contact President Dana Hein at dana.hein@usiouxfalls.edu. Come make a difference in our college, community, and our nation. See more pictures from the event with Senator Thune, visit the USF Vessel Flickr page.