Trey Pipkins makes history for the University of Sioux Falls football program
By: Bryce Couch
The University of Sioux Falls All-American left tackle Trey Pipkins can check another monumental accolade off his list; an invitation to the NFL Combine. The Combine showcases top talent from college football, and allows professional teams to get an in depth look at their potential draft picks. Out of the 335 total athletes invited this year, Pipkins is only one of four Division II athletes, and the first USF athlete ever to get the call. The drills at the Combine are designed to put the athlete's mental and physical abilities to the test. Among these drills are the 40-yard dash, vertical jump, broad jump, and the pro-agility. In preparation for the Combine, Pipkins trained with the organization called Exos sports based out of Phoenix, Arizona. Exos has a reputation for preparing top tier athletes for the Combine.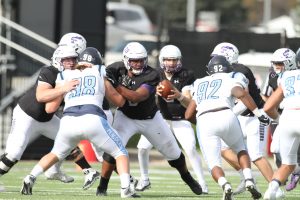 The mental preparation is just as important as the physical preparation. Pipkins said, "We did a lot of physical training (running and lifting) but we also did a lot of interview training. That really helped me prepare me mentally."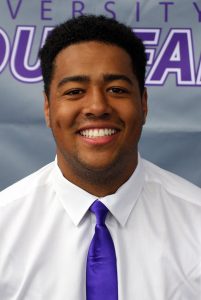 Although Pipkins has been invited to compete at this level, he still faces the label of being a "small school" player. The "small school" label is placed on players who don't attend a Division 1 university. Pipkins said, "The term small school on its own doesn't bother me. What bothers me is that a lot of times there's negative connotation that comes along with that saying." And he is correct, a heavy implication of that label is that athletes from smaller schools can't compete with athletes from bigger universities. Prior to receiving the Combine invitation Pipkins competed in the East-West Shrine game, another opportunity for athletes to draw attention to themselves. Pipkins dominated the Shrine game, even when he was competing against "big school" players. Pipkins said, "There's definitely a lot more kids at the D2 level that could compete at these All-Star games that don't get invites."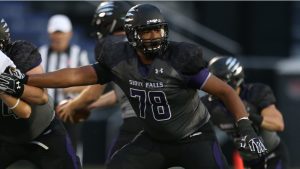 Pipkins will be competing Tuesday, February 26th through Monday, March 4th. Streaming is available through the NFL Network as well as the NFL app for the mobile viewer.