By: Apolonia Davalos
Cougar dynamism is on the rise. Banana comedy, dancing dinosaur, wood breaking Tae Kwon Do, campus leadership impersonations, improv shenanigans, acapella fun, interpretative dancing, and an array of original songs and covers, USF's Got Talent gave the brave the spotlight. Thirteen acts competed for the cash prize of $100.00 on Saturday, September 24, at the University of Sioux Falls in front of students, parents, alumni, and staff.  
The show commenced at 8 p.m. beginning with 2021's USF's Got Talent reigning champions, Acapella Group. The Acapella Group performance presented their rendition of "Some Nights" by FUN. Performers included Kelsey Brenna, Cooper Dixon, Ben Morrison, Megan Sundvold, Michaela Davis, Genna Morrison, Abby Kate Hamilton, Isaiah Henderson, Stephen Waltner, and Elijah Olson.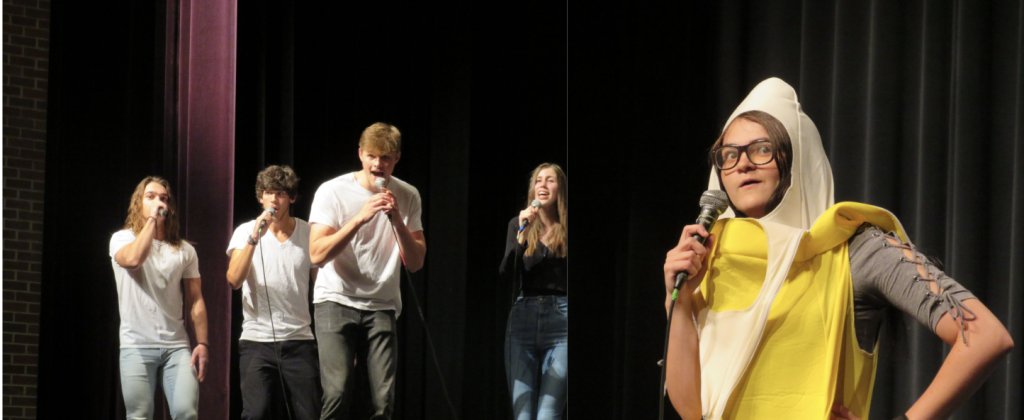 Following the opening act was USF's Got Talent 2019 veteran Ruth Hillman. Ruth is a senior majoring in Arts Education. She returns to the stage with her stand-up comedy comprised of dad jokes and, in her own words, "bad puns." Everyone went bananas over her act. Honing her craft for comedy since elementary school, Ruth shared that "it was awesome to hear the crowd laughing."
Another one of our acts was an original song and piano performance by freshman Chylee Thompson. Chylee said her song, entitled Overflow, is "a very personal song." Overflow is about her "depression and everything that [she] went through" when she felt unseen. The song "eventually talks about how God overflows us with hope and peace and love." Chylee "wanted it to be a very encouraging song" and something more "for others to actually be able to relate to." Overflow is available for listening on Spotify, Apple Music, and all social media platforms.  

Receiving the majority vote for favorite act out of thirteen performances, the number one ranking champion of USF's Got Talent was awarded to freshman roommates Sydni Mauldin and Kaci Kennedy. A duet performance of Skyscraper by Demi Lovato, Sydni and Kaci knew they needed to stand out from a multitude of singers. Their secret weapon was Sydni's improvisational dance dressed in an inflatable Tyrannosaurus rex. Laughter ensued the moment Sydni entered from stage left. Midway through their performance, both Sydni and Kaci underwent swift costume changes into modern performance attire. Kaci said it felt "kind of crazy" to win. Sydni affirmed, "We were shocked." 
USF's Got Talent was hosted by Homecoming Queen Apolonia Davalos. Sound board was operated by Hope Dunkle. Neveah Schreiber served as Assistant Stage Manager.
Other independent acts included performances by Emily Krause, Anab Nuur, Danielle Burtis, Chris Higgins, Sean Flaherty, Daniel Newman, Stephen Waltner, Abby Kate Hamilton, Jordyn Maynard, and USF's improv club Improvidence.