One Button Studio: Mears Library Upgrades for 21st Century Learning
Written by Apolonia Davalos
Director of Library Services, Annie Sternburg, won USF a $50,000.00 grant from the South Dakota State Library. Her request consisted of two video recording studios from One Button Studios. Both are installed on the first level and available for students, faculty, and staff to use as a resource.
Mrs. Sternburg reveals, "About 90 students are already scheduling to use them because they have assignments from classes." The One Button video recording studios are as easy to use as it sounds. No previous technological experience is required. Any person can reserve Studio A or Studio B, plug in their USB, step in front of the camera, press one button, record, and go. It's that easy!
Mrs. Sternburg champions a lot of use for this service. Especially, for USF staff, i.e., non-faculty and non-students, who may not have access to video technology to introduce themselves and connect professionally with the USF community and beyond. Zoom correspondence is also accessible through the One Button system. No more fear for students recording their speeches for class. High-quality audio and video resolution are for all.
For those keeping score, Annie adds, USF has two One Button Studios, and "Augie only has one." Annie advocates how "libraries are a resource and not a building of books." She boosts, that libraries are "not a dead thing, it's a living thing." And "it's there for the whole community to use to succeed." A reception is being held all mid-October. An email invitation will be released for further details. USF looks to the future as the ultimate resource for learning.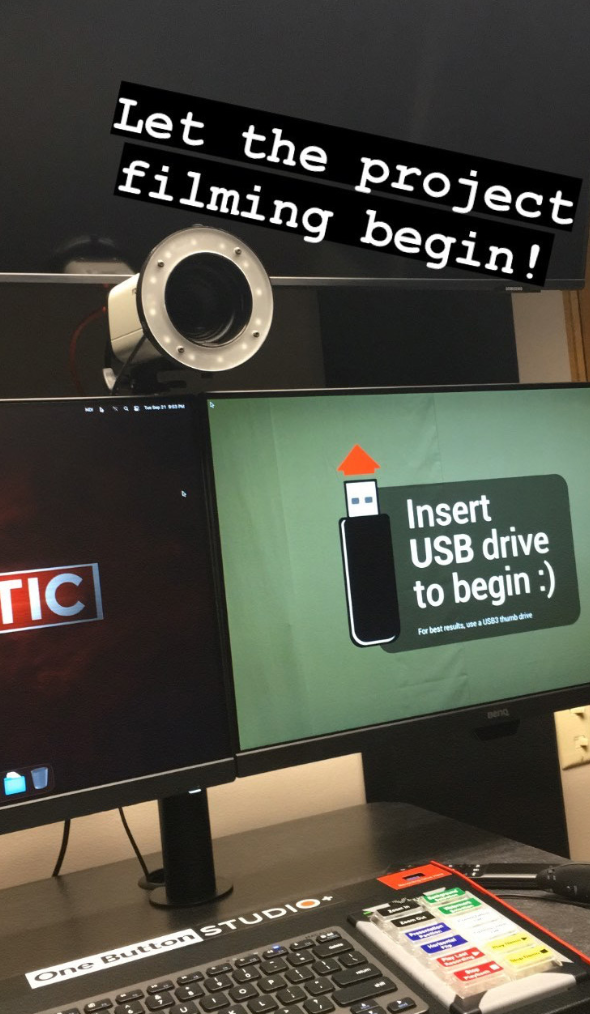 Photos courtesy of Apolonia Davalos and Ashley Fink