The USF Outdoor Classroom
By Erin Cheney
This semester offered a unique possibility for many professors to expand their various styles of teaching. University of Sioux Falls English Professor Kevin Cole chose to do that with one of his sections of ENG200, ENG200 Outdoors. Nature has always been a subject of literature and Cole says 18thcentury French philosopher Jean Jacques Rousseau is perhaps the most famous advocate of outdoor education. "I simply tailored the model for a class at USF. For centuries, all manner of thinkers, teachers, and outdoors types have touted the benefits and rewards of outdoors education—complemented with rigorous walking, observation and inquiry, and writing about the natural world." He cites Charles Darwin's Voyage of the Beagle as a perfect example. "I wanted to teach a class that considers the devastation of the natural world caused by the Anthropocene (i.e., human civilization) and what, if anything, we can do and should do looking into the future," Cole said.
USF Junior Breena Fox decided this was the class for her, even if it meant re-arranging her schedule. She said, "I chose the class because I love being outside and exploring! I was going to take the offered literature class in the summer, but seeing he offered this class, I had to change my plans for the sole purpose of getting to experience the outdoors more than I already do!" Classmate Grace Boddicker, agrees. "I knew that I wanted to take Introduction to Literature in order to fulfill one of my liberal arts core requirements and I also love hiking and being outside. So when I heard about Introduction to Literature being an outside class, I immediately jumped at the opportunity!"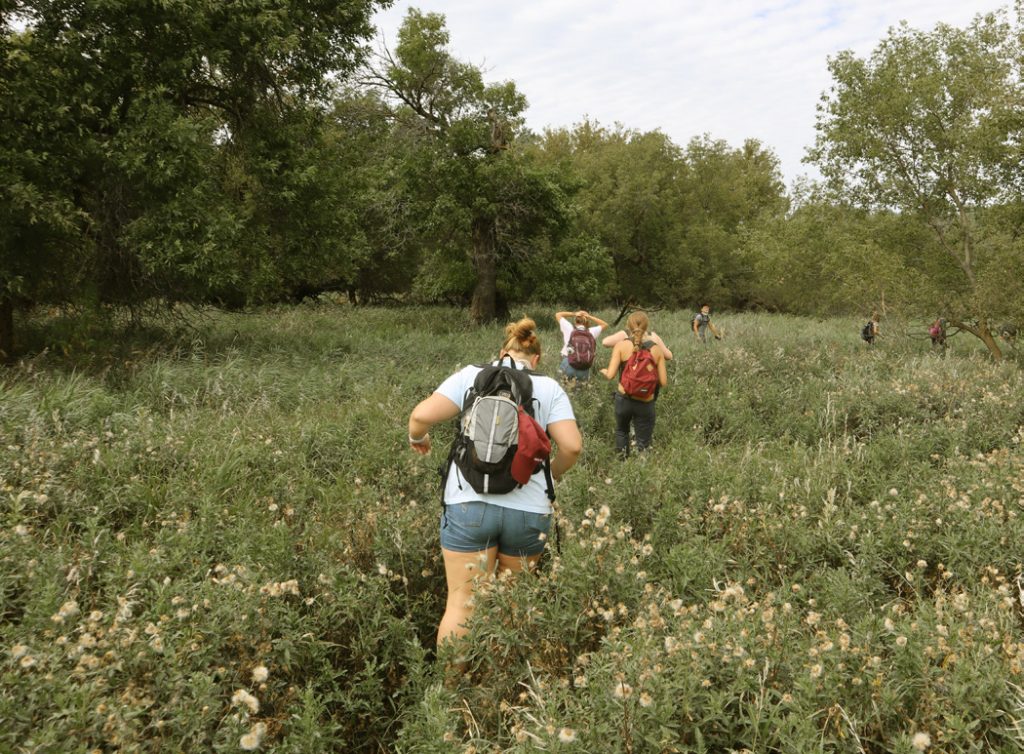 Carly Rydson, Anna Kenny and Taylor Houston on a class hike
The class meets once a week for a full three hours and takes place at a different state park, country park, or other type of public land. Students read, reflect, and write about a particular work of literature before each meeting. "This class is different from other classes in the aspect that we are experiencing similar things to what the authors we've read experienced. Professor Cole assigns readings that are parallel to our location and what we will see. This gives us a greater sense of what the authors may have been thinking while they write," says Fox. She also likes the way the course seamlessly integrates the outdoors and literature and how he presents it on hikes. Cole says, "We get moving, walk as much as we can, pausing to observe wildlife, flora, fauna, invasive species, scat, burial mounds—anything that catches our eye. And of course, we pause to talk about literature." Fox says Professor Cole's intended outcomes for this new course have worked as he hoped. "It honestly doesn't feel like I'm in a class because of how hands on it is. We stop periodically for group discussions on our literature for that week, and to express our feelings for what we see while we're exploring," says Fox.  Even Sioux Falls natives like Boddicker are learning a thing or two about the area. "I have always lived in Sioux Falls and I'm fairly familiar with many hiking places in the area. However, this class has opened my eyes to so many more and taught me so much history tied to the locations as well. I'm looking forward to continuing to visit more new places as the semester continues," says Boddicker.
The class involves a variety of physical activities, including hiking and biking, to get to their class location for the day. The class is not for the student who is uncomfortable outside. Professor Cole explains it best by saying, "No matter the weather, we're outdoors. So you have to like and appreciate 'bad' weather.  You have to like 'bugs' and 'weeds' (unfortunate terms for 'living creatures' and 'flora and fauna'). You have to enjoy walking through high grass, thickets, sloughs, marshes, creeks, riparian forest, and so forth." The literature they read is connected to the particular site of each class.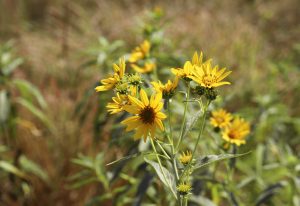 flowering jacobaea vulgaris, commonly known as "ragwort."
As with most situations that happen outdoors, the weather can be a large variable when it comes to what class will look like for the day. Cole shared a plan for days such as those. "The only elements of weather that would merit cancelling class would be something like nearby lightning and, say, a tornado warning. Otherwise, if you take this class, you're out in the elements," said Cole. Days with less than perfect weather allow for a better learning experience because students adapt to their surroundings and learn from their time spent there. Cole said, "Personally, I myself prefer what most people call 'bad weather'. For me, that's the best weather to be out walking in. I hope we get a few classes with rain, sleet, and snow before it's all over."
English 200 Outdoors has quickly become a favorite among students. Fox says, "Professor Cole likes to go off the path, quite literally, and I'm very glad he offered this class and leads us on fascinating hikes." The students' love of nature is evident in this class, which makes it all the more beneficial for them. Professor Cole is also very pleased with his students. He said, "This is a fantastic group. I could tell on the first day they would be. They love being outdoors; they love to walk; they're intensely curious; they want to engage in difficult questions; and even though we're in a pandemic, they're really upbeat and optimistic. I attribute that to their love of the outdoors."
Professor Cole says a specific experience early in the semester really captured what the class is about. "If I had to choose a favorite moment it would be leading them on walk through a restored grassland to an ancient, scared site, accessible only by foot that has burial mounds and a granite boulder, which I call the 'Holy Rock' stippled with all sorts of mysterious markings. No one knows what they are or what purpose they served. Watching students' reactions was about as rewarding as it gets. And the only way to get to it all? By being outdoors and walking." Perhaps everyone could take a note from English 200 Outdoors and spend a little more time outside enjoying nature and finding what hidden gifts it possesses.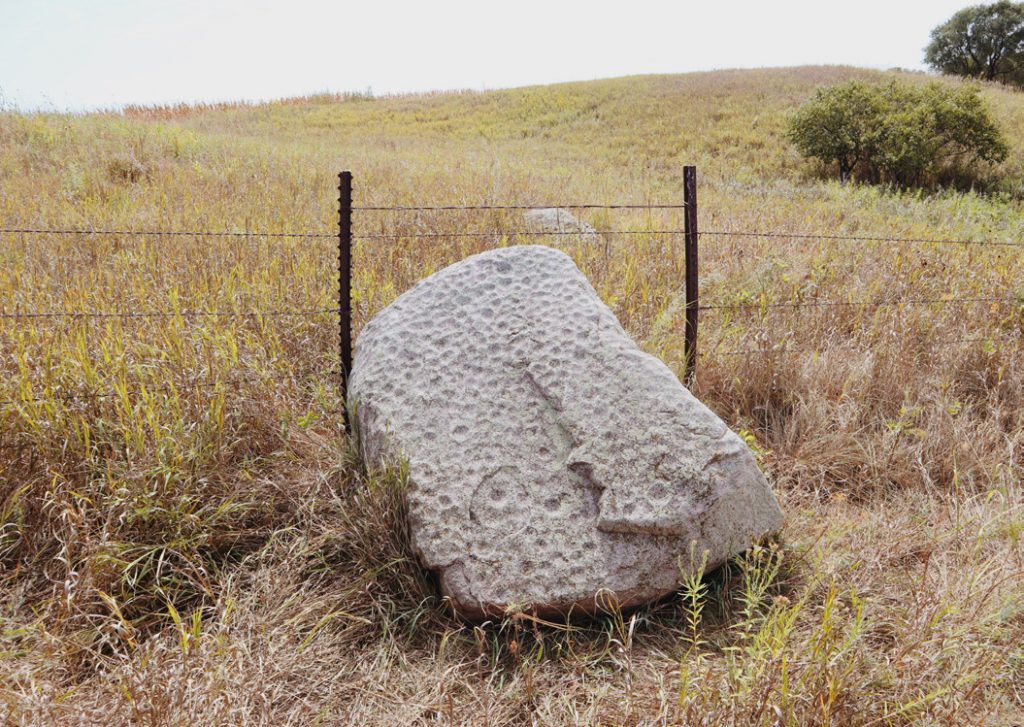 the Holy Rock at the Blood Run Nature Reserve in Good Earth State Park
photos courtesy of Grace Boddicker and Breena Fox