Media Studies and Art Merge for the Digital Age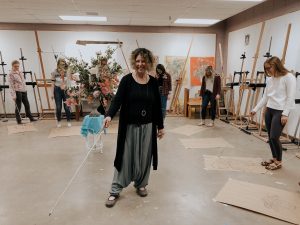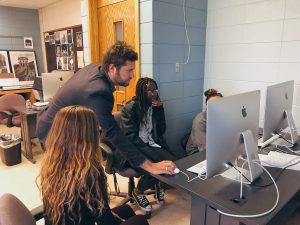 For Media Studies and Art students at the University of Sioux Falls, change is in the air. Both departments have added new classes and created a partnership that supports the rapidly changing interactive and digital technology media field. This program merger, called Media and Visual Arts gives students more options and classes to prepare them for jobs in digital art and media. This huge change will allow the gap between the Visual Art and Media students to meet in the middle.
The exciting news was released this spring, after many years of putting in research, time and collaboration between Associate Professor of Art, Ceca Cooper and Assistant Professors of Media Studies Nick Poppens and Nancy Sutton. Media and Visual Arts will draw students interested in traditional art and media, but also those hoping for a career in digital marketing, interactive art and design, and corporate video production.  
"This is the only local college that has taken steps towards this collaboration in the area. We hope this will give our students a step up in future endeavors," says Cooper.
With the collaboration in place, the 2019 Fall semester will be showcasing some of the new classes as well as classes that have been renamed and reimagined.
Cooper says, "We are very excited to bring new classes like 3D sculpture and digital painting to USF because it is something very unique and something fun for the students to be exposed to."
Professor Poppens expressed his excitement with these new changes in the Media department. "We saw a need for further skill formation in terms of advanced video projects so we added a second part to our intro class called Advanced Media & Visual Arts.  We also added a 2D/3D Motion Graphics course and a Media Graphics course because many of the careers our students were going into required these specific skills.  Other new courses include Intro to Social Media Management and other social media related courses."
Besides the new classes, Media Studies staff updated the Marketing concentration to include Social Media. Now called Social Media and Marketing, it will offer classes in Social Media Management, Digital Strategy and Web Analytics, and Web Design. Along with the concentration, Media Studies has partnered with the Degree Completion Program to offer a Social Media Marketing Certificate which will offer an additional course in Email Marketing. Students can also get a minor in Media Studies along with an associate's degree.  
So as the Spring semester winds down, and many University of Sioux Falls students meet with their professors to talk about what classes they need and want, they will see a lot of new and interesting digital options in Media and Visual Arts that just might lead to an exciting career. For more information on the new Media and Visual Arts program please visit the University of Sioux Falls website.