Improvidence Club has a Plan
By Morgan Holien
On Monday nights loud, absurd dialogue can be heard from Jeschke's Jones Theatre. Entering the room will provide you with spontaneous entertainment. It is the Improvidence Club, a group of USF students past and present that gather to create laughter and community through unplanned, creative situations. And they've got quite the surprise up their sleeve.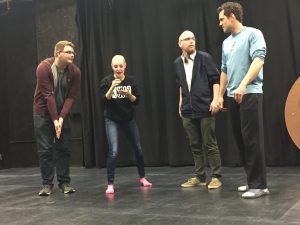 "I was painting on one of my murals and it suddenly came to me: we need to go bigger. We need to do more, we need to light people's minds on fire and take their souls and, just, blow their minds. And so, created this." Drew Veurink, a Junior and co-president of the Improvidence Club explained how he got the idea for a new Improv event, coining the title "Improviganza". Usually, Improv does a public show once a month, however Veurink's love for improv and making people laugh sparked the ambition to have "the biggest Improvidence show in USF history."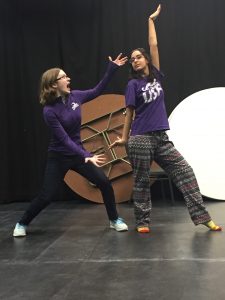 Micah Abraham, a senior and co-president (he also claims self-proclaimed dictator) is excited about the event proposal Veurink made, though, "I was a little disappointed when the proposal didn't come with a ring. But I'm actually really excited because Improv is the longest-running club on campus. So continuing to grow it and make it into a big deal is awesome."
For more information about Improvidence club, feel free to go to a meeting Monday's at nine, or contact the co-presidents through their USF emails. Improviganza will be held May 6 at 9:00 p.m. Going to the show, held in Big Z, will include snacks, a chance to win an Amazon gift card, and lots of laughs. Posters are hung around campus and posted on social media by members of the club –including their Facebook Page (search "USF Improvidence")– for day-to-day reminders. Furthermore, they ask that you wear some sort of sandal shoe–because they're going to knock your socks off!