USF Students Share Scholarship at Eleventh Annual USF Research Symposium
By Gunnar Dean
University of Sioux Falls students gathered in Cleveland Hall Tuesday, April 30, 2019 for the Eleventh Annual USF Research Symposium. The Research Symposium is an opportunity for students to share their scholarly work through presentation panels. Presentations are adapted from research essays that students have created during their academic career. This years' topics included the French Revolution, treatment of ADHD, Hebrew tradition, and a variety of other research-based studies.
Dr. Sarah Sinnott headed organization of this year's Symposium, ensuring that the day unfolded without a hitch. Sinnott was excited to be involved, as she finds the Symposium to be an invaluable opportunity for students and faculty. "The Research Symposium is great for students to understand that the work they do in their classes can have a real impact in the world. People present on topics that could make a difference in how we understand things, how we think, how we treat people, how we run business. The things we study really do have value outside of class."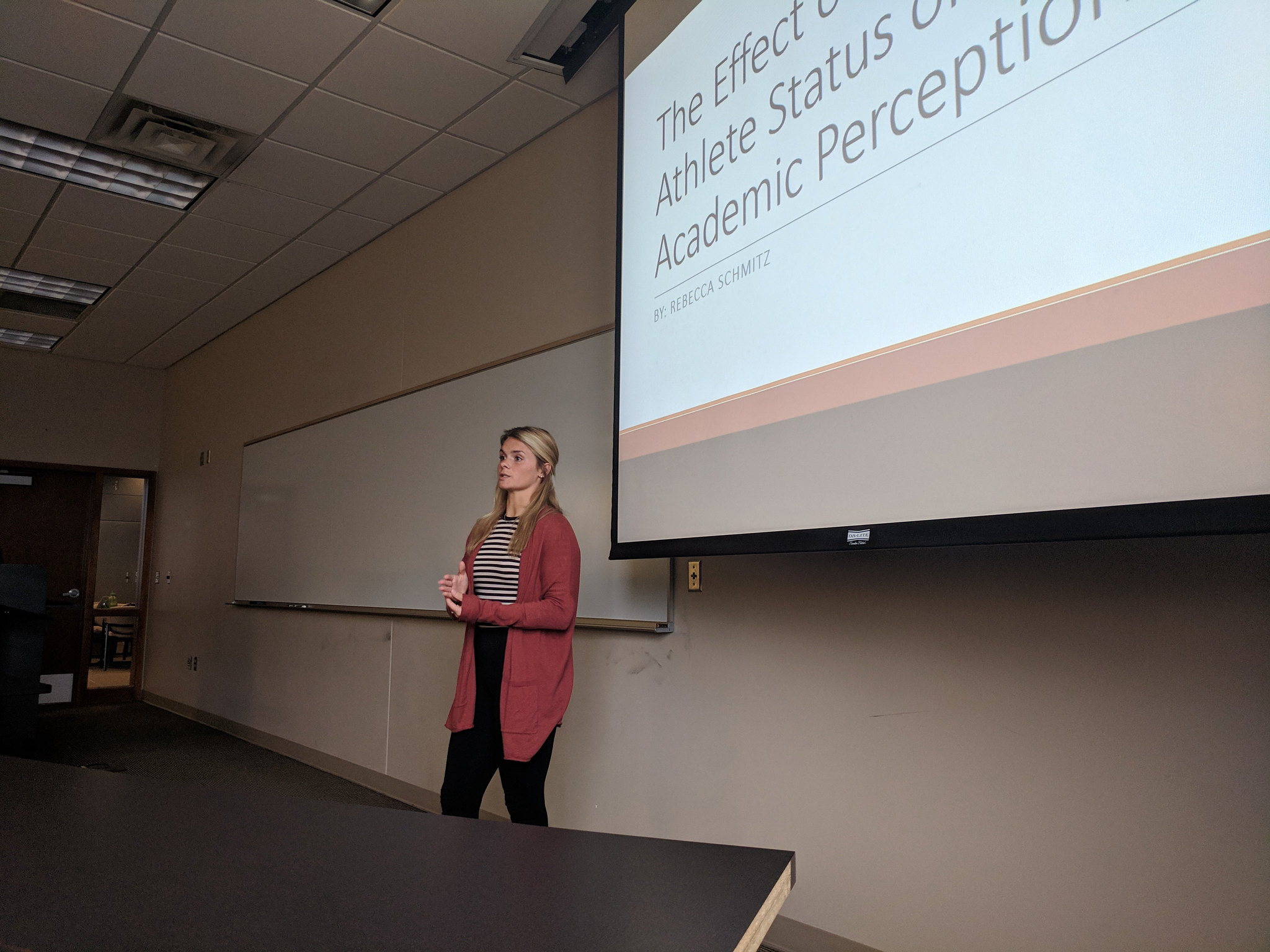 For Sinnott, the Symposium has the ability to engage students and faculty in new conversations about a multitude of subjects. "It's great to be able to talk to somebody about their research because it sparks interest in you to do your own research, and find some things that interest you that you didn't know about before."
The Symposium is a platform for students to share their own research, but it is also an opportunity to learn from the studies of others. Most notably, attendees are able to sit in on an annual keynote speaker.
This year's keynote speaker was Dr. Joshua Pope, Assistant Professor of Spanish at Doane University. Pope introduced the linguistic research that he had conducted while studying abroad in Spain in his presentation, "Learning Language and Life Lessons During Study Abroad." Sinnott, who was tasked with choosing the keynote speaker, was deliberate in her invitation to Pope. "My idea for the speaker was to find somebody in the area that hadn't previously spoken at a symposium before. I also knew that Spanish was an area that hadn't been represented. So I reached out to [Pope] because he has done something that is very important to me, which is study abroad," said Sinnott.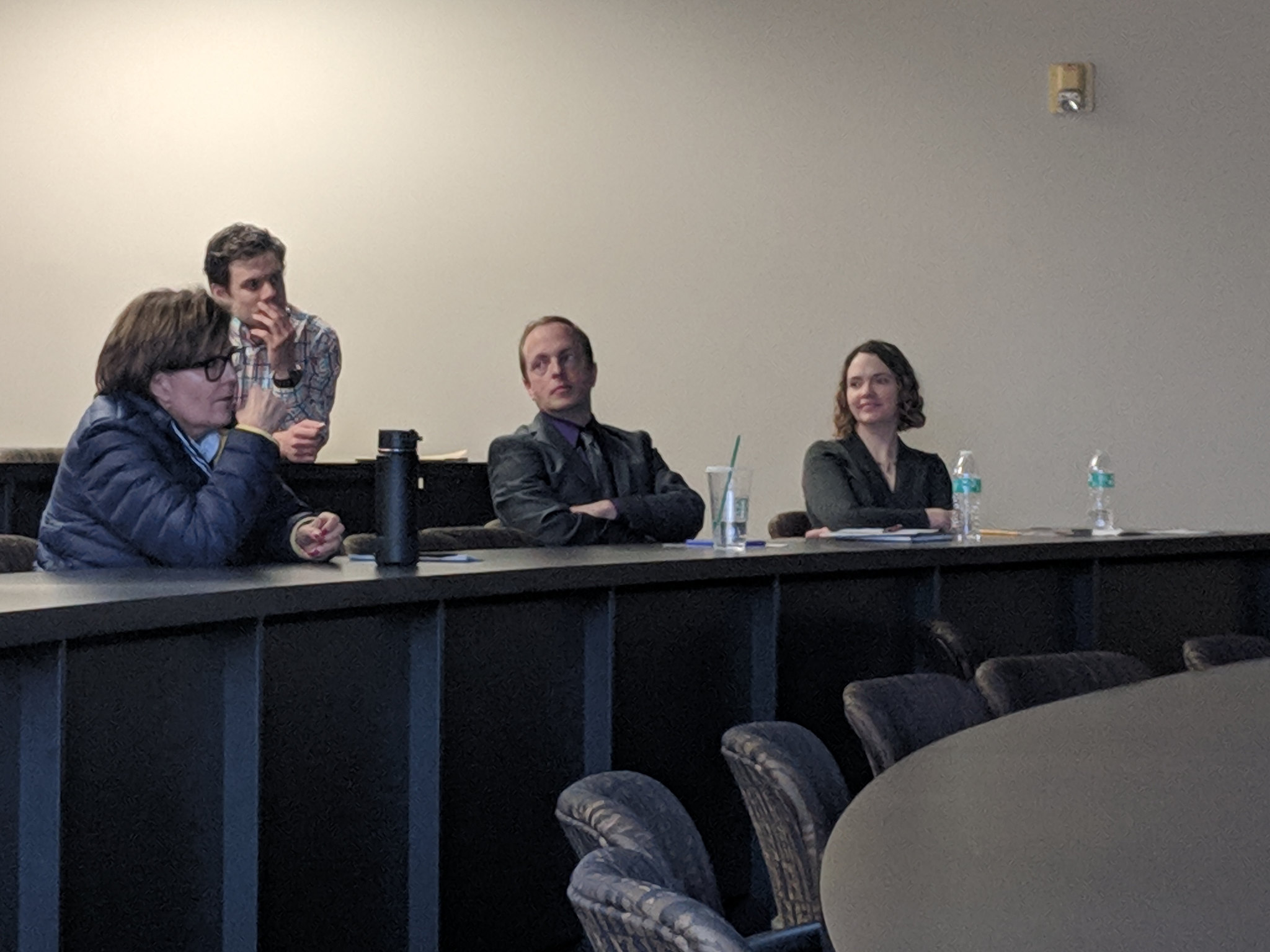 Linguistic research was also explored by juniors Anna Buxengard, Carly Knutson, and Julie Willison as they addressed the experiences of English-language learners in Sioux Falls in their presentation, "Language and Social Justice in Sioux Falls." They interviewed individuals from a variety of different backgrounds, ultimately presenting the dissonance between English-language learners and the larger English-speaking community.
To communicate this dissonance, the students began their presentation by introducing themselves in Spanish. Buxengard said this aspect was essential. "The presentation is about not being able to understand English, feeling uncomfortable or worried that you're not going to understand the information that is given to you. So, we decided that we're going to start speaking in a different language and make people feel uncomfortable, because that's how [English-language learners] feel."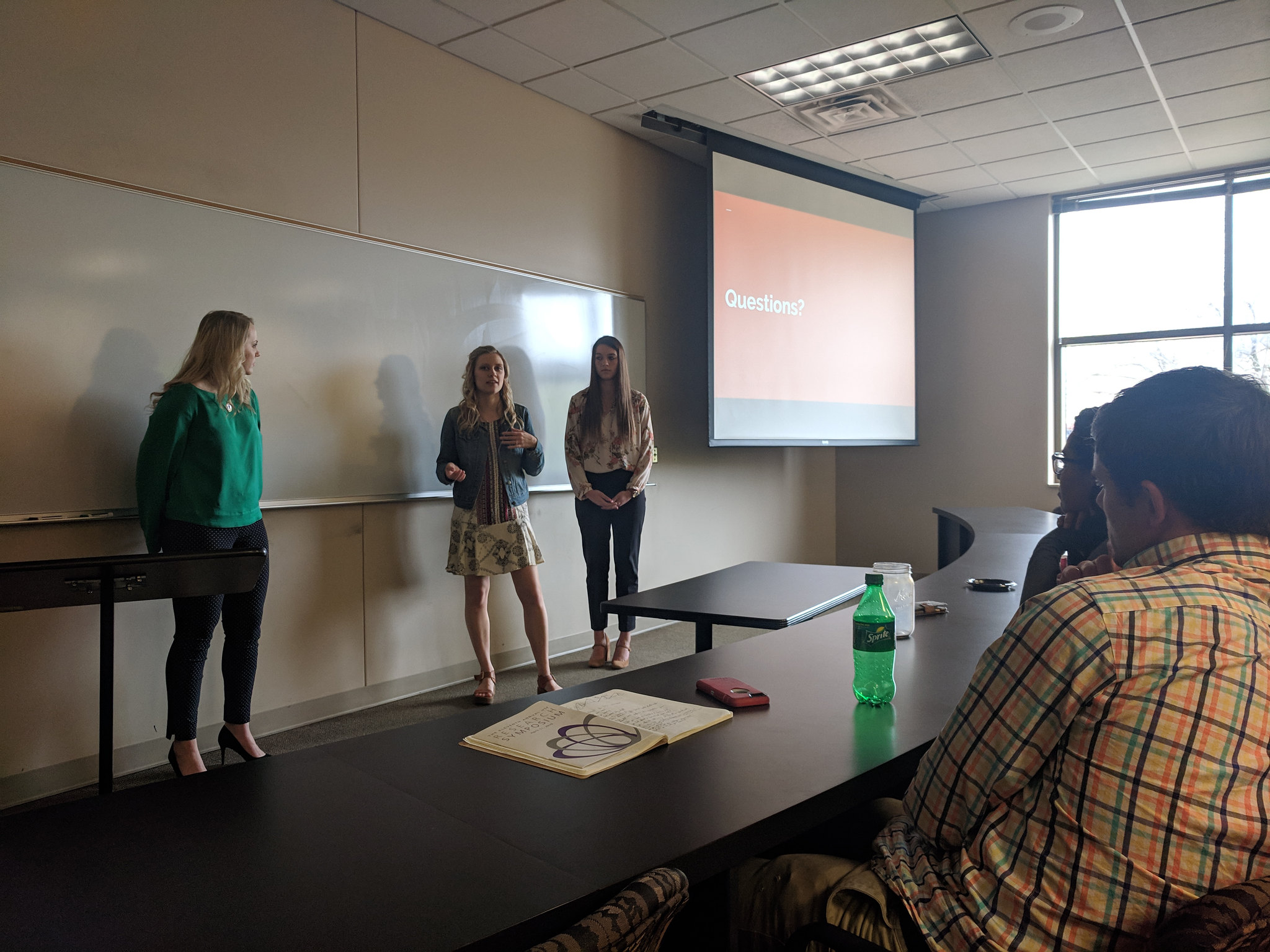 The trio was well aware of the social significance of their project, and was therefore all the more motivated to share their research. "All of us wanted to do this, so it made it easier to work together and make it happen. Whereas other group projects are an assignment, where it isn't voluntary and you may not want to work with the other people," said Willison.
Knutson said personal involvement makes a project all the more effective. "[The presentation] turned into more of a passion project. You have something that you want to leave your audience with, as opposed to just saying 'here's a bunch of numbers on a screen, do with it what you will.'"
The Research Symposium was filled with long-gestating passion projects. Senior Jessica Mays presented on the personal and the professional, as she had two different presentations on Tuesday. She explored creative writing in "The Only Enemy is Time: A Collection of Sestinas," and local history in "Flu Vacation Enjoyed Here: Sioux Falls College and the Spanish Flu in 1918."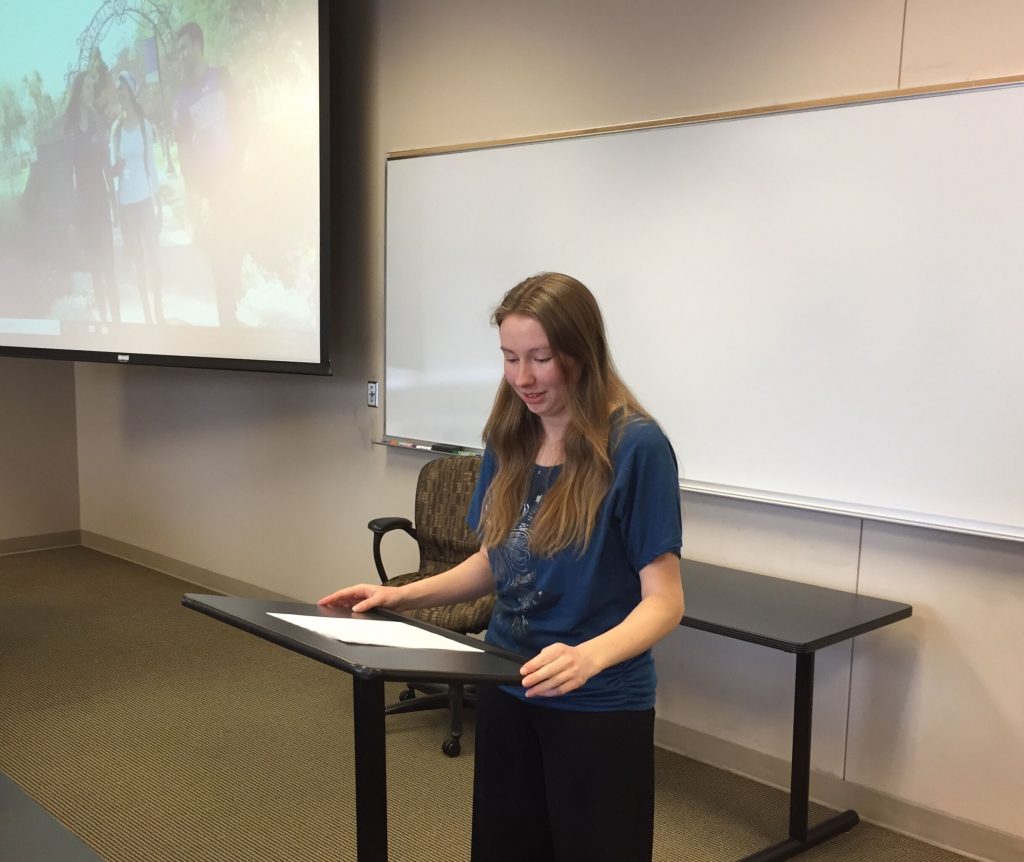 The benefits of the Research Symposium are multifold: it serves as a platform for scholarly inquiry, but it also provides professional experience for students. "[The Symposium] is important for people who are going out and trying to find jobs or getting into grad school, to show that you have done primary research and can present on it clearly. It's what a lot of schools and employers will be looking for. You have the experience now to connect with [other presenters] and enjoy research that's outside of your field," said Mays.
Tuesday marked Mays' fourth year of presenting at the Symposium. According to Mays, the key to a successful presentation is thorough preparation. She offers the following advice to future presenters. "Make sure you plan ahead and [plan] strategies to engage the audience with your topic and be ready for any question that might come up, so that you can prove that you know your topic other than what you've prepared to tell them."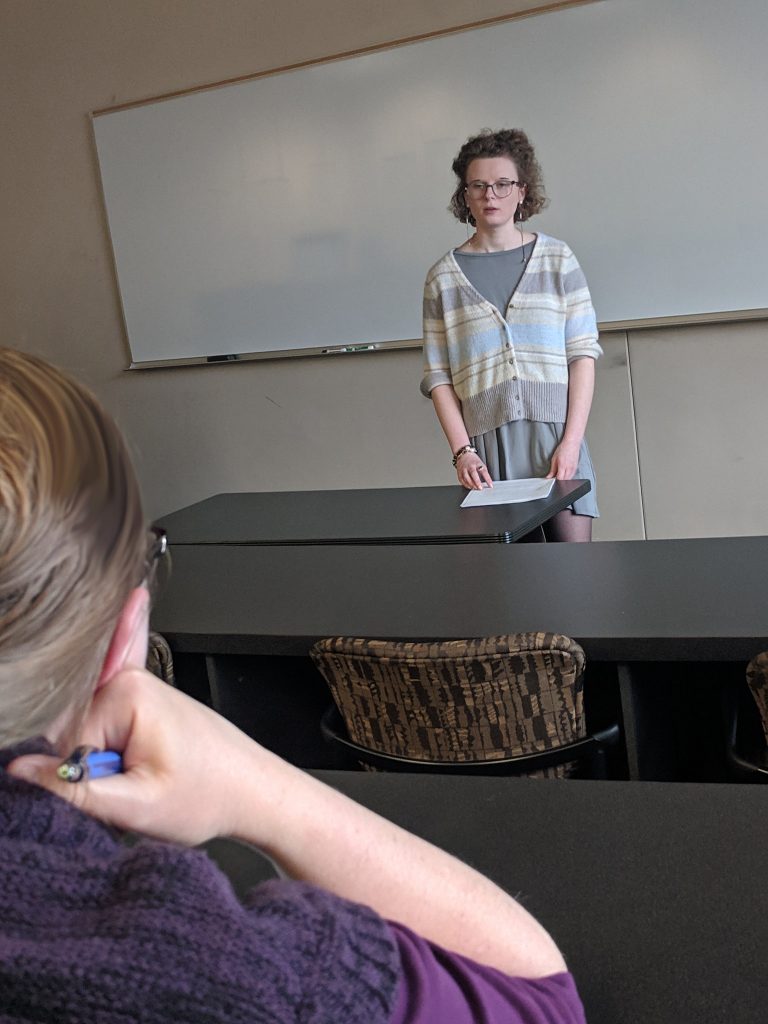 Next year's Research Symposium may be far off, but students interested in presenting can begin speaking with their professor about potential topics. Many projects are the culmination of extensive research, writing, and preparation, so it's not too early to begin the process.